How would you describe these airports? How would you like to fly there?
Lexical domain
Industrial action
ground staff, control/operational staff, effects on traffic, delays, types of strike, demonstrations, sit-ins
Pilot not familiar with airfield
procedures, airfield installations, ground services
Activities on the field
change of runway and pattern, ramp vehicles, snow clearing, sweeping, mowing, harvesting, closure, opening of runway access roads, runway inspection
Procedures
noise abatement, departure, approach, all-weather take-off and anding, go-around, holding procedures, land use, curfew, local residents
Aerodrome/airfield environment
topography (hill, slope, coastline, forest, etc.), civil engineering (water, tower, bridge, pylon, etc.), high ground/terrain, built-up areas, roads and railway lines, power lines, cardinal points, particular local activities (firing range, etc.), agricultural activities
Airfield facilities/installations
ILS, radar, VOR, etc., lighting systems, reliability of radio aids, direction finder, poor visibility equipment, aprons/tarmac/ramps, runways, taxiways, length and width of runway, parking zone, holding area, terminal, cargo area, bearing strength
Ground services
opening hours, availability of services at night, assistance on the ground, safety altitude, passengers/people on board, unserviceable equipment (stairs, luggage trolleys, etc.), auxiliary power unit, de-icing, refuelling, delay due to de-icing or refuelling, bird scaring, towing, firefighting methods, safety services, medial assistance, baggage handling
Airports - Food for thought
Airport Security
The notion of having a "secure area" at a major international airport has been blown apart by the terrorist bombings this year at Istanbul Ataturk and Brussels airports.
Since 9/11, airport security has been almost entirely focused on screening passengers and baggage headed to flights. "Airside" areas of airports beyond checkpoints used to screen passengers, baggage and airport/airline employees were labeled "secure" by transportation security authorities focused on keeping bad actors and dangerous items off of aircraft.
Needless to say, a rethinking of airport security is now in order. The Brussels and Ataturk attacks, plus the long lines witnessed at major US airport security checkpoints this spring, mandate a real questioning of the way things have been done for the past 15 years.
But there are no easy answers. At Ataturk, in fact, screening had been pushed all the way back to terminal entrances. That, of course, creates crowds at terminal entrances that can be targeted—and that appears to be what happened at Ataturk. If there is going to be screening, it has to be done somewhere, and therefore some crowding somewhere is inevitable.
Read more about it on Air Transport World
Airport Collaborative Decision Making
Airport CDM is about partners (airport operators, aircraft operators/ground handlers, ATC and the Network Operations) working together more efficiently and transparently in the way they work and share data. The Airport CDM project aims to improve the overall efficiency of operations at an airport, with a particular focus on the aircraft turn-round and pre-departure sequencing process. One of the main outputs of the CDM process will be more accurate Target Take Off Times which can be used to improve en route and sector planning of the European ATM Network. This is being achieved through implementation of a full set of Departure Planning Information messages (DPIs) sent to Network Operations. The advantages for the network will start to multiply as more and more airports implement A-CDM.
Read more here
US investing in airports
Airports Focus on the Ground
At a time when federal and state public works programs are stalled, the nation's biggest airports are in the midst of major renovations or expansions that, taken together, amount to some of the largest infrastructure projects in the country.
New York's three major airports, as well as the airports in Los Angeles, Dallas, Atlanta and Chicago, are spending billions of dollars. Many of the airports have aging terminals, some built in the 1960s and 1970s, that are ill suited to the bigger planes, bigger security lanes and bigger crowds of modern-day air travel. They are replacing or improving existing terminals, updating food concessions and parking garages, or adding runways to keep up with growing demand.
Read the whol articleon the New York Times.
Brazil awards private concessions for three major airports
By Edvaldo Pereira Lima | March 7, 2012
Airport privatization got underway last month in Brazil, where officials are rapidly moving to upgrade infrastructure ahead of the 2014 World Cup and 2016 Summer Olympics. The federal government in February preliminarily chose winners in the international bidding process for private contracts to operate Sao Paulo Guarulhos (GRU), Brasilia (BSB) and Viracopos-Campinas (VCP) airports (ATW Airports Today, Dec. 7).
The Consórcio Invepar ACSA, comprising Brazil's Investimentos e Participações em Infraestrutura S/A-Invepar and Airports Company South Africa, paid BRL$16.2 billion ($9.3 billion) for a 20-year concession to operate GRU, the country's leading international gateway. The new managers will invest BRL$1.3 billion on an initial modernization to be completed by 2014 and over the long term will invest a total of BRL$4.6 billion to upgrade the airport.
Read the complete article and get lots of vocabulary here.
Are airports downtown OK?
Airports of the future
Watch a broadcast by the BBC
Airports in 2025
Airports will have to change dramatically over the next 15 years in order to satisfy their passenger and airline customers. Passengers no longer enjoy air travel and are looking at alternative forms of travel, especially high speed trains. Many airports are at or near capacity, and cannot easily increase the infrastructure to process more passengers. Somehow they have to handle more passengers with their existing facilities. To attract passengers in the future airlines and airports have to make air travel more enjoyable and less stressful.
Read the predictions by CAP Strategic Research Ltd here
Intelligent Airport Vision
Airport of the future (according to Amadeus)
Jet Skier breaks thru JFK security system
A man whose jet ski failed him in New York's Jamaica Bay swam to John F. Kennedy airport, where he was easily able to penetrate the airport $100 million, state-of-the art security system.
Daniel Casillo, 31, was able to swim up to and enter the airport grounds on Friday night, past an intricate system of motion sensors and closed-circuit cameras designed to to safeguard against terrorists, authorities said.
"I think he should be given dinner and a bottle of champagne for showing us our faults," said Nicholas Casale, an NYPD veteran and former MTA deputy security director for counterterrorism.
Instead, Casillo was arrested after the incredible adventure that has stunned security officials.
Read the complete report on ABC News
Airports and Wildlife
How the Boris Island airport would impact Thames estuary wildlife
The airport would impose on five separate Special Protection Areas, cause tidal shifts and various kinds of pollution, and could require a bird-sterilisation programme (read the article here)
Five sites are being considered for a new airport in the Thames estuary – all of which will have an impact on wildlife and protected areas, as our interactive map explores
New York Plans to Gas 170,000 Geese
Population of Canada Geese to be reduced by two-thirds: Report
| Friday, Jul 23, 2010 | Updated 6:46 PM EST
Getty Images
In the wake of the 400 geese removed from Prospect Park and gassed to death, a report, obtained by the New York Times shows that the city and state has plans to reduce the goose population in New York from approximately 250,000 to 85,000.
In the wake of the 400 geese removed from Prospect Park and gassed to death, a report, obtained by the New York Timesshows that the city and state has plans to reduce the goose population in New York from approximately 250,000 to 85,000.
That means 170,000 geese are cooked -- or gassed, more accurately.
The plan comes from five months of meetings after the US Airways Flight 1549 struck a flock of geese mid-flight and lost both engines in an emergency landing on the Hudson River, a high-level official at the U.S. Department of Agriculture told the New York Times.
"The population of resident Canada geese needs to be reduced in metropolitan New York City to protect aviation safety," the report reads.
(read the complete article here)
Turtles on JFK runway, a solution?
Turtles on JFK runway cause flight delays
from Turtles on JFK runway cause flight delays
By BILL SANDERSON
Get the shell out of the way!
Sex-crazed turtles shut down a runway at Kennedy Airport this morning as they crawled across the tarmac heading for their seasonal breeding grounds.
Runway 4L was shut down starting about 9:30 a.m., the Federal Aviation Administration said.
Port Authority workers were still working an hour later to move the slowpokes to safer ground.
PORT AUTHORITY
Some of the turtles that stopped traffic on one of JFK's runways today.
"We may have a few delays, but nothing significant," said FAA spokeswoman Arlene Salac.
JetBlue reported the turtle incursion on Twitter around 9:40 a.m.
"Running over turtles is not healthy for them nor is it good for our tires," the airline said.
"Be advised 30 feet into the takeoff roll, left side of the centerline, there's another turtle," called the pilot of American Airlines Flight 1009, a Boeing 767 that had just taken off for the Dominican Republic.
"There's another one on the runway?" asked the controller.
"Uh, well he was there," the pilot said as the plane climbed into the air.
Turtles also delayed several flights earlier this week.
The turtle invasion is an annual event at Kennedy. They're in the middle of their spawning season, when the females crawl out of Jamaica Bay onto the runway in search of higher ground to lay their eggs.
"The sandy spot on the other side of Runway 4L is ideal for egg laying," PA spokesman John Kelly said. "It is a naturally provided turtle maternity ward. When your airport is virtually surrounded by water, your neighbors sometimes come in the hard shell variety."
In July 2009, a runway at JFK was shut down briefly after at least 78 turtles emerged from nearby Jamaica Bay and crawled onto the tarmac.
Ground crews eventually rounded up the reptiles and deposited them back in the water, but not before the incident disrupted JFK's flight schedule and contributed to delays that reached nearly two hours.
-->

Read more: http://www.nypost.com/p/news/local/turtles_on_jfk_runway_cause_flight_mfp83jCiGKRhGH6O9LasVM#ixzz1Wcr9dUOU
and turtles come back again and again according to the New York Post
Seal blocks runway in Alaska
When airport foreman Scott Babcock went out onto the runway at Wiley Post-Will Rogers Memorial Airport in Utqiagvik, Alaska, on Monday to clear some snow, he was surprised to find a visitor waiting for him on the asphalt: a 450-pound bearded seal chilling in the milky sunshine.
"It was very strange to see the seal. I've seen a lot of things on runways, but never a seal," Babcock told ABC News. His footage of the hefty mammal went viral after he posted it on Facebook.
According to local TV station KTVA, animal control was called in and eventually moved the seal with the help of a "sled."
Read more about it on Yahoo
Airport signs and Symbols
Runway language
Runway conditions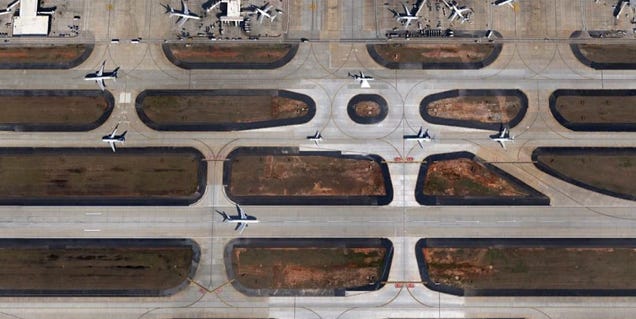 For most of us, the sight of blue lights and yellow lines outside an airplane's window is the cue to turn our phones back on. For pilots, it's more like a secret language—a language that is vitally important to safety and, increasingly, embedded with emerging technology.
I was very recently on a plane circling over LGA when I realized I had no idea what any of the patterns, colors, or letters on the runway really meant. Take the lighting, for example. In Dubai this month, Honeywell finished up installing what it describes as the very first all-LED runway lighting system; like the rest of the world, airports are giving up their inefficient lightbulbs. Meanwhile, I—the average clueless and/or terrified passenger—couldn't tell you whether a light on the runway was LED or incandescent.
I wanted to know more about the mysterious language. A Wired article from last year gave a few hints, along with the amazing Tumblr Holding Pattern. And it turns out that the Federal Aviation Administration keeps public guidelines for all of these design elements online. After digging into the FAA's list of documents and exploring in Google Earth, this is what I found.
The Lines
As a passenger, it feels like most pilots try to come down as close to the edge of whatever seems to constitute runway as possible. That's definitely not the case—there's a language of lines and indicators that helps pilots time their touch-down at the exact right moment. Most runways at major airports follows the same pattern, defined by the FAA's advisories on runway markings, found right here as a PDF.
First, there's something called the blast pad: A patch of what looks like runway, painted with yellow chevrons or lines, that's actually often not strong enough to hold the weight of the plane ("Your gear may poke through the runway!" exclaims one virtual training primer). It's never driven or landed on, but it still serves an important purpose, since it's designed to prevent the "blast" of departing jets on the runway from creating bare or eroded patches on the soil just before the runway. Basically, it's a runway band-aid, as you can see here at LGA: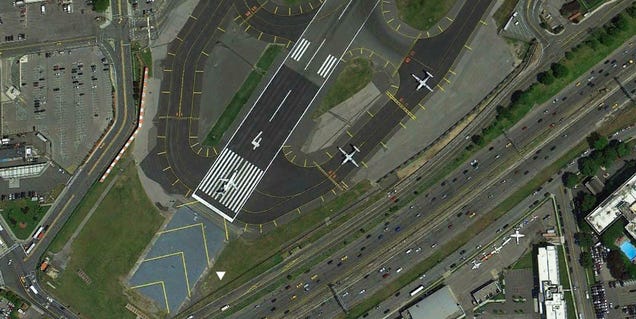 Landing on the blast pad
Read and see more on Gizmodo
Some airports
Bangkok - Don Muang
Don Mueang is a joint-use facility with the Royal Thai Air Force's Don Muang Royal Thai Air Force Base, and is the home of the RTAF 1st Air Division, which consists primarily of non-combat aircraft. [...] An RTAF golf course is located between the two runways. The course has no separation from the runway, and golfers are held back by a red light whenever planes land.
Read more about it here.
Barra Airport
Barra Airport (Scottish Gaelic: Port-adhair Bharraigh) is a short-runway airport situated in the wide shallow bay of Traigh Mhòr at the north tip of the island of Barra in the Outer Hebrides, Scotland. The airport is unique, being the only one in the world where scheduled flights use a beach as the runway.
The beach is set out with three runways, marked by wooden poles at their ends. This allows the Twin Otters that serve the airport to almost always land into the wind. At high tide these runways are under the sea - flight times vary with the tide. Emergency flights occasionally operate at night from the airport, with vehicle lights used to illuminate the runway and reflective strips laid on to the beach.
Barra Aerodrome has a CAA Ordinary Licence (Number P792) that allows flights for the public transport of passengers or for flying instruction as authorised by the licensee (Highlands & Islands Airports Limited). The aerodrome is not licensed for night use.
Read more about it here
Congonhas
Courchevel
Gibraltar
Gran Canaria
Clcik on the picture to get a description
...
Hong Kong - Chek Lap Kok
The airport has two parallel runways, both of which are 3800 metres in length and 60 metres wide, enabling them to cater to the next generation of aircraft. The south runway has been given a Category II Precision Approach, while the north runway has the higher Category IIIA rating, which allows pilots to land in only 200 metre visibility. The two runways have an ultimate capacity of over 60 aircraft movements an hour. The Airport is upgrading ATC and runways so that they can handle 68 movements per hour. Normally, the north runway (07L/25R) is for landing passenger planes. The south runway (07R/25L) is for passenger planes taking off and cargo flights due to its proximity to the cargo terminal.
There are 49 frontal stands at the main passenger concourse, 28 remote stands and 25 cargo stands. Five parking bays at the Northwest Concourse are already capable of accommodating the arrivals of the next generation of aircraft. A satellite concourse with 10 frontal stands for narrow body aircraft has been commissioned to the north of the main concourse at the end of 2009, bringing the total number of frontal stands at the airport to 59.
The airport was the third busiest for passenger traffic in Asia in 2010, and the world's busiest airport for cargo traffic in 2010.
Read more about it here
Innsbruck
JFK - Pilot declares emergency
By Glenn Pew, Contributing Editor, Video Editor

| | |
| --- | --- |
| | |
The crew of American Airlines Flight 2, a Boeing 767 out of Los Angeles for New York, ultimately declared an emergency while trying to land in strong crosswinds at JFK, May 4, after apparently being denied their runway of choice. Speaking for the JFK Controller union, Steve Abraham told ABC news the pilot "had no choice. He couldn't land 22L, it would have been illegal for him," due to the crosswind. Wind was 320 at 23 gusting to 35, at the time. JFK's main runway, 31 Left, has been closed for upgrades for about eight weeks, and controllers say that maintaining the flow of traffic at the airport has led to some less than ideal clearances. FAA spokesman Arlene Sarlac told AVweb Thursday that the agency studied the situation "for over a year" prior to closing the runway and worked with airlines who "agreed to reduce their schedules during this closure time." The FAA says the situation at JFK is safe. After receiving their clearance, the crew of American Flight 2 said, "We can't land on 22," adding, "We're breaking off approach and if you don't give us to Runway 31R, we're going to declare an emergency." The controller responded "alright, I'll pass it along, fly runway heading for now." At that point, things got more serious.
The pilots immediately responded, "OK we've declared an emergency, we're going to land 31 Right. We're going to the left and then we're coming around." The controller acknowledged the call and told the crew to "just fly runway heading." Exchanges followed and the crew ultimately announced, "Remove everybody from our way. We've declared an emergency." At that point, the controller cleared American Flight 2 for the landing on 31 Right. JFK's 14,572 foot-long 13R/31L, was closed in March to undergo a four-month-long facelift that includes widening and repaving. The closure is expected to last through June and means that traffic must be diverted to the airport's three remaining runways. Controllers say the American Airlines event shows that maintaining the traffic flow, without incurring delays, has presented challenges. According to the FAA, the situation was studied ahead of time, the airlines are flying on reduced schedules and operations at the airport are safe. The FAA is investigating the incident and will "look into all of the air traffic procedures and operations at the time of the incident, as well as the actions of the crew."
Click for audio (MP3 file).
Madeira - Funchal
The airport was once infamous for its short runway which, surrounded by high mountains and the ocean, made it a tricky landing for even the most experienced of pilots. The original runway was only 1,600 metres (5,249 ft) in length, but was extended by 200 metres (660 ft) 8 years after the TAP Portugal Flight TP425 incident of 1977 and subsequently rebuilt in 2000, almost doubling the size of the runway, building it out over the ocean. Instead of using landfill, the extension was built on a series of 180 columns, each about 70 metres (230 ft) tall. This airport is also considered the Kai Tak of Europe because of its singular approach to runway 05.
Read more about it here
McMurdo Station - Ice Runway
The Ice Runway (ICAO: NZIR) is the principal runway for the US Antarctic Program during the summer Antarctic field season due to its proximity to McMurdo Station. The other two runways in the area are the snow runway at Williams Field (ICAO: NZWD) and the white ice runway at Pegasus Field (ICAO: NZPG}.
This runway is capable of handling wheeled aircraft, that have included to date: Lockheed C-5 Galaxy, Lockheed C-141 Starlifter, Boeing C-17 Globemaster III, Lockheed C-130 Hercules and Lockheed P-3 Orion. In the summer season of 2009 /2010 the RNZAF trialled a modified Boeing 757 operationally. The intention is to use the Boeing 757 for passenger transport thereby freeing up capacity for C17 cargo space.
The annual sea-ice runway for wheeled aircraft is constructed at the start of each season and is used until early December when the sea ice begins to break up.
Read more here
Osaka - Kansai International Airport (KIX)
Kansai International Airport (KIX) is the Japan's first international airport to be operational round-the-clock. Because of the need to properly resolve environmental problems at Osaka International Airport and satisfy the growing demand for air transport in the Kansai region, this airport was built 5 km offshore from Senshu in the southeast of Osaka Bay fully taking into account the need for the protection of the environment. 2007 is the 13th-anniversary of KIX since it opened in September 1994
Read more about it here
Saba Airport - Juancho E. Yrausquin
Despite a reputation as the most dangerous airport in the world, no accidents have occurred at Juancho E. Yrausquin. The airport's risky reputation arises from the airport's physical position: it is flanked on one side by high hills; and on the runway's other side and both ends, cliffs drop into the sea. Additionally, the runway at the airport is extremely short (400m[1]); this creates the possibility that an airplane could under/overshoot the runway during landing or takeoff and end up in the sea or dashed on the rocky cliffs.
Read more aout it here
Santos Dumont
Extreme approach in Iceland
Airport Opens in Northwest Florida
May 28, 2010
Northwest Florida Beaches Airport (KECP)—the first U.S. airport built from scratch on undeveloped land since Denver International in 1995—has opened near Panama City, Fla. The 4,000-acre field initially has just one 10,000-foot runway but 8,400-foot and 5,000-foot runways are in the near-term plans. The airport replaces Panama City-Bay County Airport, which is scheduled to close July 1. The new facility can accommodate up to three FBOs, and two have signed up so far–Sheltair and Regency Air Center.