Innovations for the future
Some of the most important adaptations in the history of manned flight occurred in the back of an Ohio bicycle shop in 1896. While R&D has become somewhat more complex since the Wright Brothers' time, the underlying principle remains the same: innovation is the beating heart of the aerospace industry.
With many customers now willing to look beyond the price of a ticket, particularly on long-haul flights, airlines are investing heavily in efficiency, sustainability and cutting edge technologies to set themselves apart. Here, The New Economy considers five of the most important changes that could shape commercial aviation in the not-so-distant future.
Green power
In a world where air travel makes up between four and nine percent of all man-made greenhouse gases, it is more important than ever to find sustainable ways to propel people through the air. One of the most exciting solutions is electric-powered flight, which sees loud, gas-guzzling jet engines replaced with clean, quiet motors.
Photon-powered planes, such as the Solar Impulse craft that flew around the world last year, have been promising, yet are still too rudimentary to be viable in the short term. For now, battery-powered aircraft offer more realistic remedies. In April, a company called Zanum Aero unveiled plans for a battery-powered commercial jet that is backed by both Boeing and JetBlue Ventures, and should yield a working hybrid prototype by 2020.
Meanwhile, an even more conservative solution to the industry's carbon conundrum is biofuel, which is not limited by battery storage concerns. In 2012, Dutch airline KLM successfully sent a bio-powered plane on a 6,000-mile journey between Amsterdam and Rio de Janeiro. Although biofuel has not been
applied to commercial air travel yet, it certainly could be, with only a few adjustments to existing engine designs.
Smart materials
Even though new types of aeroplane are rapidly emerging, there is nothing to stop innovation within classic models as well. One of the most exciting trends in the aviation sector is the move towards smart materials
, which have the potential to cut fuel consumption, boost aerodynamics and make planes faster by giving them stronger, lighter bodywork.
In the long term, graphene is the most exciting of such prospects. At just one atom thick, this modern super metal was discovered at the University of Manchester in 2004 when two scientists isolated it by peeling away layers of graphite. Their Nobel Prize-winning creation has applications everywhere, including in planes, where it can be used to line wings and prevent them taking on water: a job heavier carbon fibre and fibre resins are currently tasked with.
Since 2013, there have been efforts by US regulators to end the prohibition on mobile phone use on planes
Still, graphene remains a long way off, meaning more conventional solutions may be better in the short term. One of the best examples is Boeing's Microlattice, which is a light, flexible yet extremely strong material that can be used in non-structural parts of the plane such as seats and interior environments. Rather than being a solid metal, it is made of many strands of hollow tubes and is, Boeing says, 99 percent air. As such, the Microlattice is capable of both protecting an egg from a 25-storey drop and sitting on top of a dandelion without breaking the seeds.
Very high flying
In 2004, Richard Branson inaugurated the Virgin Galactic project, with the goal of offering commercial spaceflight to wealthy customers. For the past five years, there have been promises that 'maybe this year' things will finally take off. Still, numerous setbacks, including the death of a test pilot in 2015, have given rise to an unwritten rule that its engineers and PR staff should avoid talking about timetabling.
Obstacles aside, the concept behind Virgin Galactic could have huge implications for commercial air travel. Aeroplanes that fly at the very top of the ozone layer can take advantage both of unique gravitational forces and the extremely low drag afforded by the lack of atmosphere to travel very quickly and with relatively little fuel consumption. The result, Branson reckons, is the potential to hop from London to Sydney in two hours flat.
While he also plans for space hotels and cruises to the moon, a more conventional mode of ultra-high commercial flight between destinations on Earth will probably come to fruition first.
In-flight apps
As smartphones have become more commonplace, so too have their many applications. Today, even airlines and aeroplane manufacturers are adapting to accommodate their use in-flight; something that was once completely off-limits.
Last year, Boeing launched trials for an app called vCabin that allows passengers to adjust lighting levels in their immediate vicinity, as well as to call flight attendants, order food and even check if the toilet is free. Meanwhile, phones have also been adapted to interior components such as the Recaro CL6710 business-class seat, which is designed to allow mobile apps to recline the chair back and forth.
Since 2013, there have been efforts by US regulators to end the prohibition on mobile phone use on planes, indicating that there are fewer fears of phantom signals buzzing around and knocking out the aeroplane's communications system. That said, earlier this year, the FCC's new Chairman, Ajit Pai, launched a new campaign to cull these efforts and safeguard the existing ban. As such, in-flight apps may not be rolled out for few years. Whether R&D in this area will stop, though, is a different matter, as airlines may still feel incentivised to develop services in anticipation of the prohibition eventually being lifted.
JetSmarter
Since about 2012, various app-based start-ups have emerged with a simple business model aimed squarely at the top end of the market: Uber for private jets. Companies such as Airpooler, Freshjets and Ubair have all promised to 'democratise' a $40bn industry that, until they came along, was propped up by just 150,000 customers worldwide.
Some have failed, yet others have been wildly successful, opening the industry to CEOs, businesspeople and others who may have been torn between first class and fully private travel. JetSmarter's app, which is one of the most popular in the industry, enables users to book a journey on a private jet just one day in advance – quickly, smoothly, and with striking resemblance to ride-hailing services.....
Read more about it on The New economy
The shape of the aviation industry in 10 years' time
I was recently asked what factors might shape the industry in the next 10 years. Thinking back to what I might have said in 2007 if I had been asked that question then, and the developments that have taken place to the present day, I think I would have needed a much better crystal ball than the one I owned at the time. So fresh from a recent expensive purchase on e-bay, here are a few predictions that my new crystal ball is putting forward over the next 10 years.
Find the answers on RDC Aviation
The connected aircraft
Aircraft are ever more connected to the internet, in the cabin, the cockpit and to the maintenance shop. Our editors discuss how the connected aircraft works, how the data are transmitted and processed and what safety concerns might arise as aircraft and airlines increasingly rely on connectivity.
Listen to the podcast here
Air-Cobot for walk-arounds
Boeing bets on pilotless airplanes
Boeing is looking ahead to a brave new world where jetliners fly without pilots and aims to test some of the technology next year, the world's biggest plane maker said in a briefing ahead of the Paris Airshow.
The idea may seem far-fetched but with self-flying drones available for less than $1,000, "the basic building blocks of the technology clearly are available," said Mike Sinnett, Boeing's vice president of product development.
Jetliners can already take off, cruise and land using their onboard flight computers and the number of pilots on a standard passenger plane has dropped to two from three over the years.
Sinnett, a pilot himself, plans to test the technology in a cockpit simulator this summer and "fly on an airplane next year some artificial intelligence that makes decisions that pilots would make", he said.
Self-flying aircraft would need to meet the safety standards of air travel, which had its safest year in 2016, according to the Aviation Safety Network. They would also need to convince regulators who don't yet know how to certify such planes.
"I have no idea how we're going to do that," Sinnett said. "But we're studying it right now and we're developing those algorithms."
Airlines are among those backing the idea, in part to deal with a projected need for 1.5 million pilots over the next 20 years as global demand for air travel continues to grow.
But a self-flying plane would need to be able land safely as Captain Chesley Sullenberger did in the "Miracle on the Hudson," Sinnett said. "If it can't, then we can't go there."
Read more about it on CNBC
Pilotless Cargo Aircraft
Touchscreen in the cockpit
For low visibility and night flights
Synthetic vision on the flightdeck
Read about it on Wikipedia
Next Gen Cockpits
The remote tower
London City is to become the first UK airport to replace its air traffic control tower with a remotely operated digital system.
Instead of sitting in a tower overlooking the runway, controllers will be 120 miles away, watching live footage from high-definition cameras.
The new system, due to be completed in 2018, will be tested for a year before becoming fully operational in 2019.
It has already been tested in Australia, Sweden, Norway and Ireland.
The technology has been developed by Saab, the Swedish defence and security company, and will be introduced as part of a £350m development programme to upgrade London City Airport.
It will also include an extended terminal building, enabling it to serve two million more passengers a year by 2025.
The remote digital system will provide controllers with a 360-degree view of the airfield via 14 high-definition cameras and two cameras which are able to pan, tilt and zoom.
The cameras will send a live feed via fibre cables to a new operations room built at the Hampshire base of Nats, Britain's air traffic control provider.
As well as being able to see it, controllers will be able to hear the airport, as if they were in situ.
Unlike the old tower, the new system will allow controllers to zoom in for a better view and put radar data onto the screen to track aircraft.
BBC transport correspondent Richard Westcott says a critical new safety feature means the cameras will be able to pick out rogue drones near the airport, as well as light the runway at night.
Read more on the BBC
4-D FMS
Google glasses for flight
or AeroGlasses
Aero Glass from Aero Glass on Vimeo.
Tablet or Paper?
A Virgin Australia pilot is suing the airline for almost $1 million, claiming he hurt his back hoisting a flight bag stuffed with 40 pounds of charts and manuals. David Kloster, 57, says it never would have happened if the airline had given him an iPad instead. In a filing with the Queensland Supreme Court, Kloster said the airline had an obligation to provide him (and presumably other pilots) with an alternative to lugging around the information he needed to do his job. "The defendant (Virgin Australia) exposed the plaintiff (Mr. Kloster) to a risk of injury which could have been avoided by the exercise of reasonable care," court documents said. "(Virgin Australia) failed to have in place a system of work whereby charts and rules could have been left on board its aircraft or kept electronically on an iPad."
Virgin Australia has not formally responded to the claim but issued a statement saying it takes protection of the health and safety of its employees seriously. It's also planning to switch to iPads for document storage this year. Kloster was taking the airline shuttle bus to work on Dec. 29, 2009, when the mishap occurred. It laid him up for much of 2010 and it appears he hasn't been able to return to work based on the claim, which includes more than $800,000 (Australian dollars) for loss of future earnings.
Read in AVwebBiz
Webinar on iPad in cockpit
The Age of the iPad
The tablet computer — especially the iPad — is increasingly in use as an electronic flight bag.
BY MARIO PIEROBON
0 comments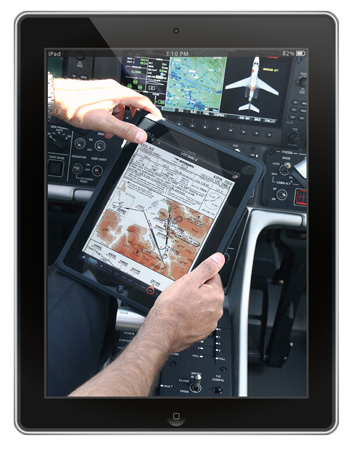 No other piece of equipment in the recent history of aviation technology has become as popular with pilots as quickly as Apple's iPad tablet computer, which increasingly is being used as an electronic flight bag (EFB).
Airbus and Boeing both seem convinced of the role the iPad and other tablet computers will play in the future of information management technology for air navigation. In early 2012, Airbus CEO Tom Enders said the iPad is "changing the way pilots interact with the aircraft" and that the "impact of such products, from outside the world of aviation, is starting to dictate what people expect from us, and we can't ignore that."1
In July, Airbus launched an iPad EFB solution, "FlySmart with Airbus," that includes apps (applications) with which pilots can compute performance calculations and consult Airbus flight operations manuals. Airbus plans a second set of iPad apps that it said "will add more performance, as well as load sheets, flight folder and navigation charts applications."
Boeing also recognizes that the iPad has "gained rapid, unprecedented popularity as an EFB in all aviation market segments."2 Jeppesen, a Boeing subsidiary, has developed a charting app that the U.S. Federal Aviation Administration (FAA) authorized for use in February 2011. In December 2011, American Airlines was the first airline authorized by the FAA to use Jeppesen charts on iPads in all phases of flight; and many air carriers are evaluating mobile EFB platforms that include iPads, and are using simulator and in-flight studies to help develop procedures and training programs, and to validate the use of the equipment in all phases of flight, according to Boeing.
The iPad's success does not come by chance. The technology debuted when flight operations departments already were considering EFBs but had been limited by the often-prohibitive cost of EFB hardware. The much lower acquisition cost of the iPad seems to have enabled a speedier transition to EFB technology.
Because of the recent evolution of EFB technology and the expected large-scale introduction of mobile devices onto the flight decks of commercial airlines, the FAA recently released Advisory Circular (AC) 120-76B containing guidelines for the certification, airworthiness and operational use of EFBs (ASW, 5/12).
According to definitions in the updated AC, the iPad can be used as either a Class 1 or Class 2 EFB. Class 1 EFBs are not typically mounted to the aircraft, and they are not connected to aircraft systems for data. Class 2 EFBs typically are mounted, but can be easily removed from their mounts by the flight crew, and they may connect to data ports (wired or wireless) or installed antennas. iPads cannot be Class 3 EFBs, which are permanently installed in the aircraft.
According to the AC's definitions, the iPad is capable of hosting Type A and Type B software applications. Type A applications are intended primarily for use during flight planning on the ground or during non-critical phases of flight. Type B applications provide aeronautical information required to be accessible at the pilot station and are intended for flight planning and all phases of flight.
Read the complete article on AeroSafety World by the Flight Safety Foundation
Mobile Flitedeck
Children of Magenta - Automation dependent?
Pilots and Automation
"Pilots' "automation addiction" has eroded their flying skills to the point that they sometimes don't know how to recover from stalls and other mid-flight problems, say pilots and safety officials. The weakened skills have contributed to hundreds of deaths in airline crashes in the last five years.
Slideshow
AP Photo - - FILE - In this Feb. 12, 2009, file photo, a plane burns after it crashed into a house in Clarence Center, N.Y., Authorities say it was Continental Airlines Flight 3407 operated by Manassas, Va.-based Colgan Air. Airline industry and safety officials are concerned that pilots' flying skills are becoming rusty and their ability to handle unexpected situations is eroding because most flying is delegated to computers in today's highly automated planes.

Read more: http://www.heraldonline.com/2011/08/30/3327353/ap-impact-automation-in-the-air.html#ixzz1WYUF4CXf
Some 51 "loss of control" accidents occurred in which planes stalled in flight or got into unusual positions from which pilots were unable to recover, making it the most common type of airline accident, according to the International Air Transport Association.
"We're seeing a new breed of accident with these state-of-the art planes," said Rory Kay, an airline captain and co-chair of a Federal Aviation Administration advisory committee on pilot training. "We're forgetting how to fly."


Opportunities for airline pilots to maintain their flying proficiency by manually flying planes are increasingly limited, the FAA committee recently warned. Airlines and regulators discourage or even prohibit pilots from turning off the autopilot and flying planes themselves, the committee said.
Fatal airline accidents have decreased dramatically in the U.S. over the past decade. However, The Associated Press interviewed pilots, industry officials and aviation safety experts who expressed concern about the implications of decreased opportunities for manual flight, and reviewed more than a dozen loss-of-control accidents around the world. Safety experts say they're seeing cases in which pilots who are suddenly confronted with a loss of computerized flight controls don't appear to know how to respond immediately, or they make errors — sometimes fatally so.

A draft FAA study found pilots sometimes "abdicate too much responsibility to automated systems." Because these systems are so integrated in today's planes, one malfunctioning piece of equipment or a single bad computer instruction can suddenly cascade into a series of other failures, unnerving pilots who have been trained to rely on the equipment. The study examined 46 accidents and major incidents, 734 voluntary reports by pilots and others as well as data from more than 9,000 flights in which a safety official rides in the cockpit to observe pilots in action. It found that in more than 60 percent of accidents, and 30 percent of major incidents, pilots had trouble manually flying the plane or made mistakes with automated flight controls. A typical mistake was not recognizing that either the autopilot or the auto-throttle — which controls power to the engines — had disconnected. Others failed to take the proper steps to recover from a stall in flight or to monitor and maintain airspeed. The airline industry is suffering from "automation addiction," Kay said.
In the most recent fatal airline crash in the U.S., in 2009 near Buffalo, N.Y., the co-pilot of a regional airliner programmed incorrect information into the plane's computers, causing it to slow to an unsafe speed. That triggered a stall warning. The startled captain, who hadn't noticed the plane had slowed too much, responded by repeatedly pulling back on the control yoke, overriding two safety systems, when the correct procedure was to push forward. An investigation later found there were no mechanical or structural problems that would have prevented the plane from flying if the captain had responded correctly. Instead, his actions caused an aerodynamic stall. The plane plummeted to earth, killing all 49 people aboard and one on the ground. Two weeks after the New York accident, a Turkish Airlines Boeing 737 crashed into a field while trying to land in Amsterdam. Nine people were killed and 120 injured. An investigation found that one of the plane's altimeters, which measures altitude, had fed incorrect information to the plane's computers. That, in turn, caused the auto-throttle to reduce speed to a dangerously slow level so that the plane lost lift and stalled. Dutch investigators described the flight's three pilots' "automation surprise" when they discovered the plane was about to stall. They hadn't been closely monitoring the airspeed.

Last month, French investigators recommended that all pilots get mandatory training in manual flying and handling a high-altitude stall. The recommendations were in response to the 2009 crash of an Air France jet flying from Brazil to Paris. All 228 people aboard were killed. An investigation found that airspeed sensors fed bad information to the Airbus A330's computers. That caused the autopilot to disengage suddenly and a stall warning to activate. The co-pilot at the controls struggled to save the plane, but because he kept pointing the plane's nose up, he actually caused the stall instead of preventing it, experts said. Despite the bad airspeed information, which lasted for less than a minute, there was nothing to prevent the plane from continuing to fly if the pilot had followed the correct procedure for such circumstances, which is to continue to fly levelly in the same direction at the same speed while trying to determine the nature of the problem, they said. In such cases, the pilots and the technology are failing together, said former US Airways Capt. Chesley "Sully" Sullenberger, whose precision flying is credited with saving all 155 people aboard an Airbus A320 after it lost power in a collision with Canada geese shortly after takeoff from New York's LaGuardia Airport two years ago. "If we only look at the pilots — the human factor — then we are ignoring other important factors," he said. "We have to look at how they work together." The ability of pilots to respond to the unexpected loss or malfunction of automated aircraft systems "is the big issue that we can no longer hide from in aviation," said Bill Voss, president of the Flight Safety Foundation in Alexandria, Va. "We've been very slow to recognize the consequence of it and deal with it." The foundation, which is industry supported, promotes aviation safety around the world.

Airlines are also seeing smaller incidents in which pilots waste precious time repeatedly trying to restart the autopilot or fix other automated systems when what they should be doing is "grasping the controls and flying the airplane," said Bob Coffman, another member of the FAA pilot training committee and an airline captain. Paul Railsback, operations director at the Air Transport Association, which represents airlines, said, "We think the best way to handle this is through the policies and training of the airlines to ensure they stipulate that the pilots devote a fair amount of time to manually flying. We want to encourage pilots to do that and not rely 100 percent on the automation. I think many airlines are moving in that direction." In May, the FAA proposed requiring airlines to train pilots on how to recover from a stall, as well as expose them to more realistic problem scenarios.
But other new regulations are going in the opposite direction. Today, pilots are required to use their autopilot when flying at altitudes above 24,000 feet, which is where airliners spend much of their time cruising. The required minimum vertical safety buffer between planes has been reduced from 2,000 feet to 1,000 feet. That means more planes flying closer together, necessitating the kind of precision flying more reliably produced by automation than human beings.
The same situation is increasingly common closer to the ground.
The FAA is moving from an air traffic control system based on radar technology to more precise GPS navigation. Instead of time-consuming, fuel-burning stair-step descents, planes will be able to glide in more steeply for landings with their engines idling. Aircraft will be able to land and take off closer together and more frequently, even in poor weather, because pilots will know the precise location of other aircraft and obstacles on the ground. Fewer planes will be diverted.
But the new landing procedures require pilots to cede even more control to automation. "Those procedures have to be flown with the autopilot on," Voss said. "You can't afford a sneeze on those procedures." Even when not using the new procedures, airlines direct their pilots to switch on the autopilot about a minute and a half after takeoff when the plane reaches about 1,000 feet, Coffman said. The autopilot generally doesn't come off until about a minute and a half before landing, he said. Pilots still control the plane's flight path. But they are programming computers rather than flying with their hands. Opportunities to fly manually are especially limited at commuter airlines, where pilots may fly with the autopilot off for about 80 seconds out of a typical two-hour flight, Coffman said.
But it is the less experienced first officers starting out at smaller carriers who most need manual flying experience. And, airline training programs are focused on training pilots to fly with the automation, rather than without it. Senior pilots, even if their manual flying skills are rusty, can at least draw on experience flying older generations of less automated planes. Adding to concerns about an overreliance on automation is an expected pilot shortage in the U.S. and many other countries. U.S. airlines used to be able to draw on a pool of former military pilots with extensive manual flying experience. But more pilots now choose to stay in the armed forces, and corporate aviation competes for pilots with airlines, where salaries have dropped.

Changing training programs to include more manual flying won't be enough because pilots spend only a few days a year in training, Voss said. Airlines will have to rethink their operations fundamentally if they're going to give pilots realistic opportunities to keep their flying skills honed, he said.

Follow Joan Lowy on Twitter: http://twitter.com/(hash)!/AP_Joan_Lowy
Copyright © 2011 The Associated Press. All rights reserved.
from http://www.heraldonline.com/2011/08/30/3327353/ap-impact-automation-in-the-air.html
Hacking an aircraft with a smartphone
At a security conference in Amsterdam, a hacker demonstrated how he has the ability to hijack an airplane with just an Android-based smartphone. The attack can be completed remotely, and the hacker doesn't need to physically access the aircraft at all.
Hugo Teso, the creator of this hack, says that an understanding of aviation and aircraft systems is important in order to understand how the process works. He has the ability to launch what he calls passive attacks. These involve eavesdropping. He can also launch active attacks that jam the aircraft's messaging system and something Teso refers to as "replaying" and "injection."
Read more about it here
The future aircraft
The future aircraft are predicted to set new standards in civil aviation for the next couple of decades. Aviation community is trying to make future aircraft more environmentally friendly, making fewer harmful emissions, being quieter and cheaper. Here are some latest prototypes of future aircraft:
1. Box Wing Jet.
This future aircraft is scheduled to release in 2025. Lockheed Martin aerospace company is developing a Box Wing concept, which will bring a huge decrease in fuel consumption. In contrast to Airbus concept, Lockheed Martin is planning to have only a minor change in aircraft structures. Because of lightweight materials used and specific features of the wings the relation of carrying power to front resistance is 16% higher. It will allow these planes to fly on a long distance and consume less fuel.
2. Supersonic Green Machine.
This future aircraft is scheduled to release in 2030. The proposed Supersonic Green Machine offers increased efficiency with variable-cycle engines, allowing to switch conventional turbofan mode during landing and takeoff. Combustors which are built into the engine are predicted to decrease nitrogen oxygen pollution by 75%. Finally, engineers managed to solve one of the most noticeable problems of Concorde – its noise. Underwing engine placement and the ''V'' tail of this plane will allow completely fully tackle with sonic booms which led to a ban of Concorde.
Read more on Aerotime or AviationCV
Pilotless flight in the UK
Read about it on BBC News
Back to top
Pilotless air taxi
Pilot + Robot = Pibot
Back to top
A robot for preflight

Back to top
A silent airliner
Glass Cockpit
A glass cockpit is an aircraft cockpit that features electronic instrument displays. Where a traditional cockpit relies on numerous mechanical gauges to display information, a glass cockpit uses several displays driven by flight management systems, that can be adjusted to display flight information as needed. This simplifies aircraft operation and navigation and allows pilots to focus only on the most pertinent information. They are also popular with airline companies as they usually eliminate the need for a flight engineer. In recent years the technology has become widely available in small aircraft.

Early glass cockpits, found in the McDonnell Douglas MD-80/90, Boeing 737 Classic, 757 and 767-200/-300, and in the Airbus A300-600 and A310, used Electronic Flight Instrument Systems (EFIS) to display attitude and navigational information only, with traditional mechanical gauges retained for airspeed, altitude and vertical speed. Later glass cockpits, found in the Boeing 737NG, 747-400, 767-400, 777, A320 and later Airbuses, Ilyushin Il-96 and Tupolev Tu-204 have completely replaced the mechanical gauges and warning lights in previous generations of aircraft.




NTSB Glass Cockpit Safety Study Concludes Pilots Need More Training

On Tuesday March 9, the NTSB held a public Board meeting to consider a study on whether glass cockpit-equipped general aviation aircraft are safer than aircraft with traditional round gauges. The Board reached the same conclusion as other similar studies. Glass Cockpits have the potential to increase safety. However pilots need additional training, both initially and on a recurrent basis, to reap the benefits of these technologies. Five of the six study recommendations were...

related to training.

As a flight instructor who specializes in teaching in glass cockpits I'm not surprised. While glass cockpits have dramatically increased the capabilities available to pilots, they have also increased the amount of training required to be proficient with those systems.

And that's a conundrum for General Aviation. At the same time we're trying to attract more people to aviation, the learning curve for becoming proficient with glass cockpits is getting steeper. Ultimately, I expect user interfaces will improve and workloads will decrease. But until then, pilots flying glass cockpits must invest the time and money to seek out the best possible training (see end of article for more on this). Not only do pilots need good initial training on using the systems and understanding failure modalities, but the Board feels they also need better recurrent training.

Study Background

The goals of the study were simple. The NTSB wanted to identify any difference in operational characteristics of glass and non-glass aircraft and determine how glass has affected safety. To do this, they decided to compare accident information and activity between matched groups of aircraft, specifically glass and non-glass aircraft manufactured between 2002 and 2006. The groups were selected to minimize any differences in which the two groups of airplanes used. In the end however, the study found that there are very large differences in the way glass and non-glass aircraft are used.

The study group included the Cessna 172, 182, 206, 350 and 400, the Cirrus SR20 and SR22, the Diamond DA40, Mooney, Beechcraft A36 and G36 and numerous Piper models. In the five-year period, a total of 5516 glass and 2848 non-glass aircraft of these models were manufactured. The NTSB looked at the accidents these aircraft had between 2002 and 2008.

Study Results

The study aircraft had a total of 266 accidents. In glass aircraft, there were a total of 125 accidents of which 39 were fatal. In non-glass aircraft, there were a total of 141 accidents of which 23 were fatal.

Simply counting the number of accidents that occur is misleading, since it doesn't account for variations in the number of hours that different types of aircraft fly. To compute accident rates, the NTSB worked with manufacturers to determine the average number of hours flown per year by model. Using this data, they calculated a glass cockpit total accident rate of 3.77 accidents per 100,000 hours versus 3.71 for non-glass aircraft.

Surprisingly the NTSB didn't compare these accident rates with those computed for the entire fixed wing general aviation fleet. AOPA's Air Safety Foundation supplies those figures in their annual Nall Report, an authoritative source of general aviation accident data (commercial operations conducted under FAR Part 135 are not included in the Nall Report). Nall Report data for 2007 computes a total accident rate of 6.47 per 100,000 hours, nearly twice the rate in the NTSB study. The simple conclusion is that new aircraft manufactured between 2002 and 2006 are twice as safe as the entire GA fleet, which includes some aircraft that are more than 80 years old.

For fatal accidents, the story was quite different. The study found the glass cockpit fatal accident rate was 1.03 accidents per 100,000 hours versus 0.43 for non-glass aircraft). Nall Report data for 2007 computes a fatal accident rate of 1.18 per 100,000 hours.

Further Analysis

It would be easy to leap to the conclusion that glass cockpit aircraft are less safe except for one fact: glass cockpit aircraft are used very differently than their non-glass counterparts, exposing them to greater risk. The Board found that glass cockpit aircraft were more likely to be used for business and personal flying and to be flown IFR by older pilots. Non-glass airplanes had a significantly higher percentage of takeoff and landing accidents, were more likely to be used for instruction and were flown on shorter flights. Glass aircraft averaged trips of 96 miles, exposing them to more weather and terrain dangers, while non-glass aircraft averaged trips of just 25 miles.

Again, the Board missed an opportunity to compare their study data with Nall Report data for different types of flying activity. Instructional flying is relatively safe, since it's done under controlled conditions with a flight instructor supervising the flight. Nall Report data for 2007 show that instructional flights accounted for 15.2% of hours flown, but only 5.9% of fatal accidents. Applying this ratio to overall fleet data suggests an instructional fatal accident rate of 0.458 accidents per 100,000 hours, nearly identical to the rate the Board found for non-glass aircraft, which were doing a high percentage of instructional flight. Combined 2007 Nall report personal and business flight data accounted for 53.5% of hours flown, but a whopping 77.2% of fatal accidents. Applying this ratio to overall GA fleet data suggests an overall personal and business fatal accident rate of 1.70 accidents per 100,000 hours. This implies that glass cockpit aircraft, when matched against aircraft used for a similar purpose, are actually safer than the overall GA fleet, which is predominantly non-glass.

NTSB Board member Robert Sumwalt zeroed in on this issue when he asked "This is the million dollar question. Were the differences because of the aircraft or the mission?" A staff member replied that he "couldn't say for sure."

Recommendations

The NTSB Board came up with six recommendations, five of which were training related. They were that the FAA:

1. enhance pilot knowledge and training requirements;

2. require manufacturers to provide pilots with information to better manage system failures;

3. incorporate training elements regarding electronic primary flight displays into training materials and aeronautical knowledge requirements;

4. incorporate training elements regarding electronic primary flight displays into initial and recurrent flight proficiency requirements for pilots of small light general aviation airplanes equipped with those systems, that address variations in equipment design and operations of such displays;

5. support equipment-specific pilot training programs by developing guidance for the use of glass cockpit simulators other than those that are approved by the FAA as flight training devices; and

6. inform the general aviation community about the importance of reporting malfunctions or defects with electronic flight, navigation and control systems through the Service Difficulty Reporting system.



FASTI (First ATC Support Tools Implementation Programme)
| | |
| --- | --- |
| The need for system support tools for air traffic controllers has never been greater. The forecast growth in air traffic and the drive for safety improvements and cost efficiencies mean that the time is now right for a greater focus on the implementation of controller system support to meet the needs of the airspace user. Classical methods of providing operational improvements all have their finite limit. New initiatives are necessary. The fundamental tasks, roles, responsibilities and working methods of controllers have not changed in the last thirty years. | |
Pitot tubes - Don't mask them
Aeroperú Flight 603 was a scheduled flight from Jorge Chávez International Airport in Lima, Peru (SPIM), to Comodoro Arturo Merino Benítez International Airport in Santiago, Chile (SCEL), which crashed on October 2, 1996.
The pilots struggled to navigate the aircraft after the failure of all the plane's instruments. With the pilots unaware of the plane's true altitude, the plane's wing hit the water and crashed shortly afterward. The cause of the instrument failure was a maintenance worker's failure to remove tape covering the static ports necessary to provide correct instrument data to the cockpit.
Read more or watch a dramatization
A Plan to Send Flight Data Somewhere Off the Plane
Published: March 3, 2010
Investigators of a French airline accident and aviation agencies from 44 other European countries plan to ask the International Civil Aviation Organization to change the way planes transmit information while flying over oceans. The hope is to prevent airliners from vanishing without leaving clues about what happened.
The flight data recorder boxes for Air France Flight 447, which crashed in the Atlantic, were never recovered.
Since the disappearance last June of Air France Flight 447, carrying 228 people on a flight from Rio de Janeiro to Paris, two searches of the Atlantic have failed to find the flight data and cockpit voice recorders. Without that data, investigators cannot determine why the plane, an Airbus 330, crashed.
The French investigators from the Bureau d'Enquêtes et d'Analyses pour la Sécurité de l'Aviation Civile and the other Europeans want the international aviation group to consider requiring commercial airliners to regularly send basic flight information like direction, altitude, speed and location to some receiver off the airplane. Over the last 20 years, aircraft in flight have been sending out increasing kinds and amounts of information, though transmitting a great deal of data and equipping older airplanes with the technology to do so will be expensive.
The recommendations are "absolutely feasible," said David Coiley, aeronautical business director for the satellite communication company, Inmarsat, that provides aviation communications. The company participated with the working group on flight data technology that helped develop the investigators' recommendations. In an e-mail message, Mr. Coiley said, "There is an argument for the augmentation of stored data sources with some degree of live data feeds."
The French investigators' report, which was obtained by Air Transport Intelligence, a news agency that covers the industry, also recommends that the international aviation group change the standards for black boxes so that their locator beacons have a wider range and a functioning life of three months rather than the current one month.
Underwater searches were required for 26 aviation accidents over the last 30 years, according to the French investigators. The searches lasted anywhere from three days, in the case of Alaska Airlines Flight 261, which crashed in the Pacific in January 2000, to 77 days to find the black boxes from an Australian charter flight that crashed in the Pacific in April 2008. Air France Flight 447 is the only commercial airplane crash in which neither recorder has been found, despite an estimated $40 million in spending on searches involving the navies of France, Brazil and the United States.
"They haven't been able to identify the cause of the accident," said Ron Schleede, a retired air crash investigator and private aviation consultant. "But they've identified a deficiency in air safety. They can't find the recorders. The next step is to develop safety recommendations to remedy the situation."
Maturing Safety Safely
By Perry Flint | July 1, 2011
Someone once remarked that the way to tell if a technology is mature is to observe whether each new solution creates an additional set of problems. Take automobile airbags, for example. They were developed to address a specific safety issue, which is that large numbers of drivers and passengers were being injured or killed in survivable accidents because they would not wear their seatbelts. The great thing about an airbag, advocates pointed out, was that it was a "passive restraint system"—drivers and passengers didn't have to do anything to be protected, which was not the case with seatbelts and shoulder harnesses. Generally speaking, airbags have performed well and it is unarguable that they have saved several thousand lives.
However, it is also the case that they have been directly responsible for the deaths of a small but not statistically insignificant number of people in accidents that were not otherwise life-threatening. Furthermore, some percentage of drivers and passengers have been hurt or killed in crashes that were survivable had they been buckled up, but they believed the presence of the passive restraint system obviated the need to wear a seatbelt, which is a superior safety device in almost all accident situations. Automotive safety technology, we would argue, is mature.
Now consider the accident that is on everyone's mind: Air France 447. At the end of May, BEA released its initial findings based on analysis of the FDR and CVR. These indicate that aircraft and engine systems apparently functioned as intended during the final minutes of flight. The autopilot and autothrottles disengaged—as they were designed to do—following a brief but meaningful discrepancy in airspeed indications, which is assumed to be owing to pitot tube icing. That initiated a sequence of cockpit actions that led to the aircraft crashing less than five minutes later, having entered a stall from which it never was recovered. As in the Colgan Air accident that also occurred in 1999, it seems that the AF cockpit crew was faced with a serious but non-emergency situation, yet it quickly developed into a crisis with the loss of the aircraft and all aboard.
Read more
Airbus Fly by Wire
Autopilot and Children in the cockpit
Aeroflot Flight 593 was a Russian International Airlines[1]Airbus A310 passenger airliner operating on behalf of Aeroflot which crashed into a hillside in Kemerovo Oblast on 23 March 1994. All 75 passengers and crew were killed.
Voice and flight data recorders revealed that the pilot's 15 year-old son Eldar Kudrinsky had, while seated at the controls, unknowingly disabled the A310 autopilot's control of the aircraft's ailerons. The aircraft had then rolled into a steep bank and near-vertical dive from which the pilots were unable to regain control. Unlike Soviet planes with which the crew had been familiar, no audible alarm accompanied the autopilot's partial disconnection and because of this, they remained unaware of what was happening. As a result of the crash investigation, a number of design changes to the A310 autopilot system were recommended.
HUD

An approch

What is it like to fly with a HUD?

Should it be installed on all aircraft?



Synthetic Vision
Synthetic vision provides situational awareness to the operators by using terrain, obstacle, geo-political, hydrological and other databases. A typical SVS application uses a set of databases stored on board the aircraft, an image generator computer, and a display. Navigation solution is obtained through the use of GPS and intertial reference systems.
Read more about it on Wikipedia
Night and Day, Day and Night, a perfect vision
Ever heard of Infrared

Here is an article from wikipedia.



How cockpit autonomy will change flying forever
by Stephen Pope
Humans beware. Computers want your job, and considering that they're smarter, better looking and will work for no pay, they'll probably get it someday.
For professional pilots that could mean preparing for the day when the captain is a software app and you're just along for the ride.
In the same way that improvements in computing technology eliminated the need for a flight engineer acting as a dedicated third crewmember aboard earliergeneration airliners, an increased reliance on cockpit automation could eventually make the twopilot flight crew a relic of a bygone era as well.
Aerospace technologists dream of a world in which fully automated aircraft will be allowed to operate gate to gate or ramp to ramp with minimal interaction from the pilots, whose primary jobs will be to monitor systems and intercede in case of emergency. These future aviators could perform their duties from the ground, experts say, making it unnecessary–at least conceptually– to fly with a two-pilot crew or with any pilots at all.
GPS - Benefits and limitations
Here is a pilot's guide to GPS, mostly in video, published by Airspace & Safety
UA 901 - Nearly crashed because of an error in database
Watch the News on CBS5 and read the comments on Flyertalk. What is YOUR opinion about it?
Some pictures
Now and then
Some links
Podcast: The Connected Aircraft
Aircraft are ever more connected to the internet, in the cabin, the cockpit and to the maintenance shop. Our editors discuss how the connected aircraft works, how the data are transmitted and processed and what safety concerns might arise as aircraft and airlines increasingly rely on connectivity.
Don't miss a single episode. Subscribe to Aviation Week's Check 6 podcast in iTunes.